October 3rd, 2022
September 20th, 2022
Papers Submissions
---
October 10th, 2022
Notification of acceptance
---
October 16th, 2022
Camera-ready papers
---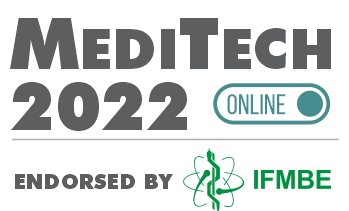 Ratko Magjarević-President, IFMBE
MediTech 2022 – ONLINE
20-22 OCTOBER 2022, CLUJ-NAPOCA, ROMANIA
We would like to invite you to contribute to the 8th edition of the International Conference on Advancements of Medicine and Health Care through Technology – MediTech 2022.
This 8th edition of the International Conference MediTech incorporates 10 thematic areas with participation of researchers and professionals from Biomedical Engineering, Clinical Engineering, Medical Physics, Medicine and other Healthcare professions.
Clinical Engineering Assessment
Medical Devices, Measurement and Instrumentation
Biomedical Signal Processing
Biomedical Imaging and Image Processing
Telemedicine and Health Care Information Systems
Biomechanics, Robotics and Rehabilitation
Health Technology Assessment
Special Issues in Medicine
Education and Training
Miscellaneous topics
The main goal of MediTech2022 is to improve communication and encourage collaboration among all health care professionals through presentations and discussions on current challenges and new trends.
MediTech2022 is addressed to all those interested in research and applications of biomedical engineering.
Peer-review accepted papers will be published in the MediTech 2022 proceedings in IFMBE Proceedings Series, indexed in SpringerLink and Scopus, and will be submitted for inclusion to Clarivate Analytics Web of Science Core Collection (former ISI-Proceedings).